A Patient's Guide to Complex Regional Pain Syndrome (CRPS—also known as Reflex Sympathetic Dystrophy, Major/Minor Causalgia, Shoulder-Hand Syndrome, Sudeck's Atrophy)
Introduction
Complex regional pain syndrome (CRPS) is a condition of intense burning pain, stiffness, swelling, and discoloration that most often affects the hand. Arms, legs, and feet can also be affected by CRPS. This condition was previously known as reflex sympathetic dystrophy, Sudeck's atrophy, shoulder-hand syndrome, or causalgia.
CRPS occurs from a disturbance in the sympathetic (unconscious ) nervous system that controls the blood flow and sweat glands in the hand/arm.  When the sympathetic nervous system becomes overactive—burning pain is felt along with swelling/warmth in the affected arm.  If not treated, CRPS can cause stiffness and decreased function.
The causes of CRPS may be unknown in some cases; often however an injury may precipitate CRPS.  Injury or surgery may be the most common instigating issues—but CRPS may be associated with nerve pressure, infection/cancer, neck disorders, stroke, or heart attack.  These events may set of the sympathetic nervous system as part of the initial pain sequelae.  Nerve injuries can cause the feedback look to become disrupted.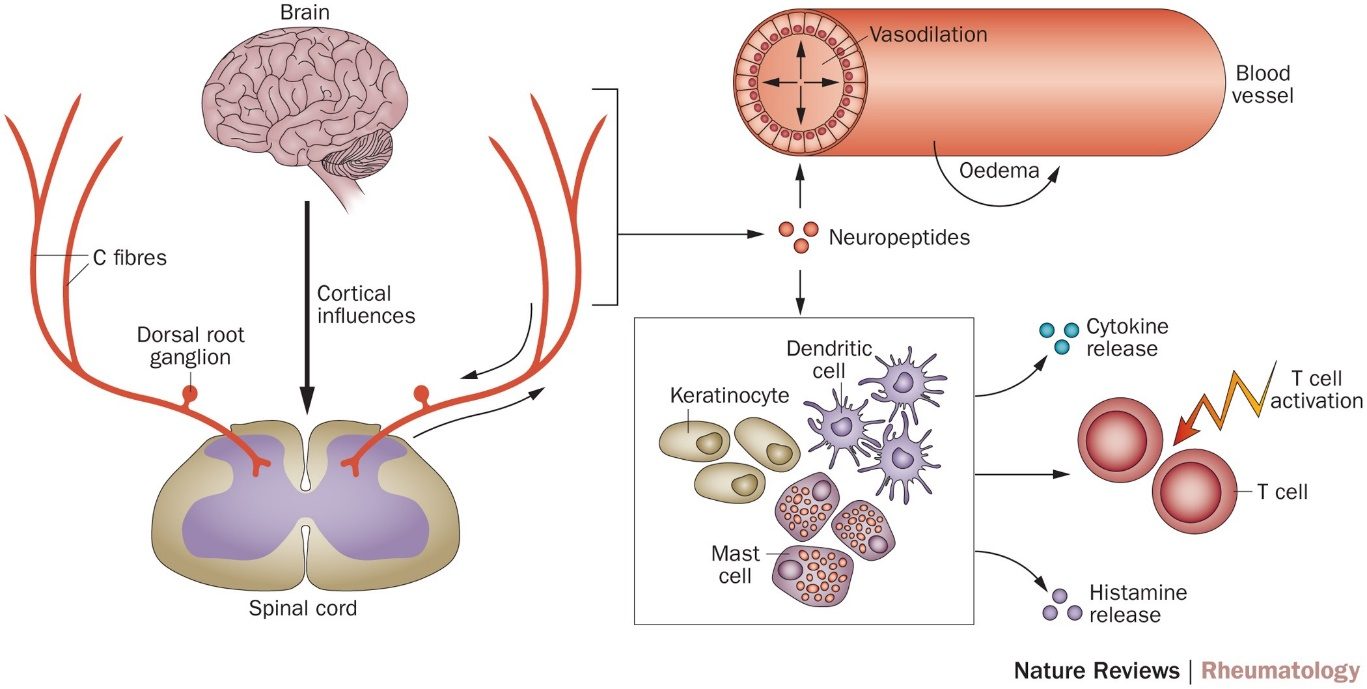 CRPS causes a disruption in the nervous system resulting in overactivity—pain, swelling, in early stages increased sweating.
Natural History of CRPS
The pain associated with CRPS is often described as burning in nature.  Swelling associated with the joints may cause pain and stiffness.  CRPS has three stages.
Stage I (Acute)
This stage may persist for three months. During this stage the symptoms include pain/swelling, increased warmth in the arm/hand and excessive sweat. Occasionally the hair and nails on the affected limb may show accelerated growth.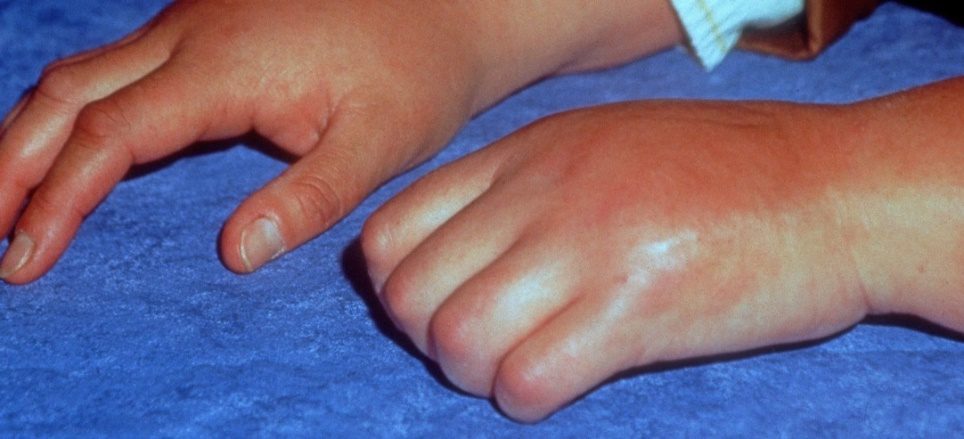 A left-hand manifesting Stage I findings in CRPS
Stage II (Dystrophic)
Stage II can last 3 to 12 months. Swelling is more constant and skin wrinkles disappear. Skin temperature becomes cooler. Fingernails become brittle. Pain is more widespread, stiffness increases, and the affected area becomes more sensitive to touch.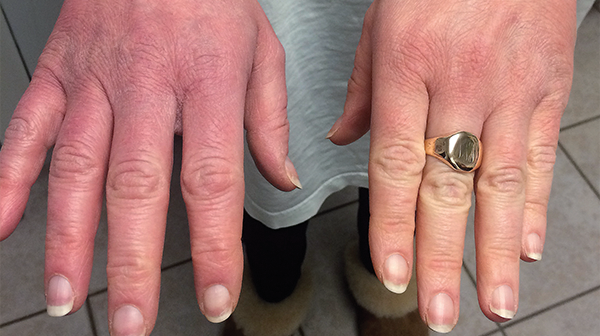 A right-hand manifesting  Stage II CRPS
Stage III (Dystrophic)
Stage III occurs after 1 year. The skin of the affected area becomes pale, dry, tightly stretched, and shiny. The area is stiff and there is less hope of getting motion back. Pain may decrease and the condition may spread to other areas of the body.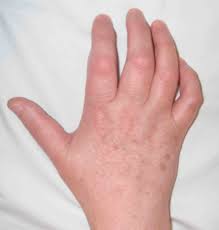 A right-hand manifesting stage III CRPS changes
Diagnosis
The diagnosis is usually made when at least three of the following symptoms are present
Pain and tenderness
Signs of changed blood flow (increased in stage I and decreased in stage II/II)
Swelling with stiff joints
Skin changes
There is no single test that can make the diagnosis of CRPS. Some imaging studies, such as x-rays, bone scans, and magnetic resonance imaging (MRI) scans can help your doctor make a firm diagnosis.
Treatment
Early diagnosis and treatment are important as late stage CRPS may show smaller changes in outcome.
Nonsurgical Treatment
Medications. Non-steroidal anti-inflammatory drugs (NSAIDs), oral corticosteroids, anti-depressants, blood pressure medications, and  anti-convulsant are medications recommended to relieve symptoms.
Biofeedback. Increased body awareness and relaxation techniques may help with pain relief.
Therapy. Active exercise that emphasizes normal use of the affected limb is essential to permanent relief of this condition. Physical and/or occupational therapy are important in helping patients regain normal use patterns. Medications and other treatment options can reduce pain, allowing the patient to engage in active exercise.
Surgical Treatment
Surgical management is typically disappointing in late stages.  Other physicians in pain management may utilize pain pumps or spinal cord stimulation.